"I have been an ergonomic specialist for 12 years and know the importance of taking a few precautions to avoid injuries. Make sure you take the time to keep yourself injury and pain free. Let it snow!"

Ben McCormack, P.T., Certified Ergonomics Specialists at Northern Physical Therapy
Shoveling Snow: Tips for Avoiding Injuries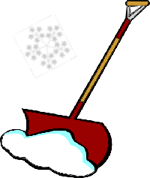 Snow shoveling is a repetitive activity that can cause muscle strain to the lower back and shoulders. Back injuries due to snow shoveling are more likely to happen to people who may not know that they are out of condition. Following these tips can help you avoid injuries:
Lift smaller loads of snow, rather than heavy shovelfuls. Be sure to take care to bend your knees and lift with your legs rather than your back.
Use a shovel with a shaft that lets you keep your back straight while lifting. A short shaft will cause you to bend more to lift the load. Using a shovel that's too long makes the weight at the end heavier. Step in the direction in which you are throwing the snow to prevent the low back from twisting. This will help prevent "next-day back fatigue."
Avoid excessive twisting because the spine cannot tolerate twisting as well as it can tolerate other movements. Bend your knees and keep your back as straight as possible so that you are lifting with your legs.
Take frequent breaks when shoveling. Stand up straight and walk around periodically to extend the lower back.
Backward bending exercises while standing will help reverse the excessive forward bending of shoveling: stand straight and tall, place your hands toward the back of your hips, and bend backwards slightly for several seconds.
If you or anyone you know is experiencing back pain, consult a licensed physical therapist.
Content provided by the APTA. MoveForwardPT.com

Pre-Op Seminar Highlights
Ben working one-on-one with a pre-surgical patient. They discussed how the joint works, what most likely will happen during surgery, and  how to perform some post-surgery exercises.
Matt and Karey had several pre-op patients that learned how the knee joint works, what happens during a knee replacement, and ways to get ready for post-surgery home life to be safe and functional. "Easy interaction with others and the What if's addressed. Time well spent."
Emily enjoyed some one-on-one time to discuss total hip replacements and get some strengthening exercises that will help pre-surgery.
At Northern Physical Therapy, PC our staff is enthusiastic and committed to giving our patients the best care possible. We have a genuine interest in helping patients become healthier and lead more productive lives. We make sure patients know what their physical ailment is and how we are going to help them recover. Our website features a Medical Library that we use to show a patient where the problem is located. It also has educational information for patients, so they can learn more about their injury and treatment techniques.
The more you know the more you can take control! We make sure every patient gets an Individualized Plan of Care and has a large part in designing it. Every patient has goals and things they want to be able to do and those goals, plus a few of our own, are what drives our therapists to excel in patient care. Taking care of our bodies is a 24/7 job, so each patient is also given an Individualized Home Exercise Program. Recovery is faster and more successful when patients know what to do when they are not in the clinic. It takes a partnership and commitment to get results.
Life is complicated, but having help from knowledgeable and caring people makes it much easier. Northern Physical Therapy is committed to doing just that and our RESULTS prove it - 90% of our patients' state that they are greatly improved or improved. We call that SUCCESS! Check out our repeating Success Stories!
2 Minutes to a Better You!
How to do a Plank by Matt Breton
Plank: The prone and side-lying plank exercises are excellent ways to engage and strength core muscles. People that do a lot of lifting, need to work on their posture and who are very active will benefit from this exercise. If you have severe back pain, consult with your Physical Therapist before beginning this exercise.